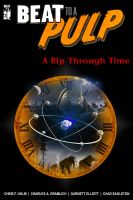 BEAT to a PULP: A Rip through Time
Ebook By
BEAT to a PULP
Rating: Not yet rated.
Published: Nov. 27, 2011
Category:
Fiction » Literature » Science Fiction - Adventure
Words: 38393 (approximate)
Language:
English
Ebook Short Description
Dr. Berlin has created a powerful time-travel device with the ability to predict the future and retrodict the past. He swipes his own creation from The Company and disappears into history. The Company's time-cop Simon Rip and the sexy, brilliant Dr. Serena Ludwig join together to track Berlin and return the device. Their pursuit will take them back to the ice age and forward to the end of time.